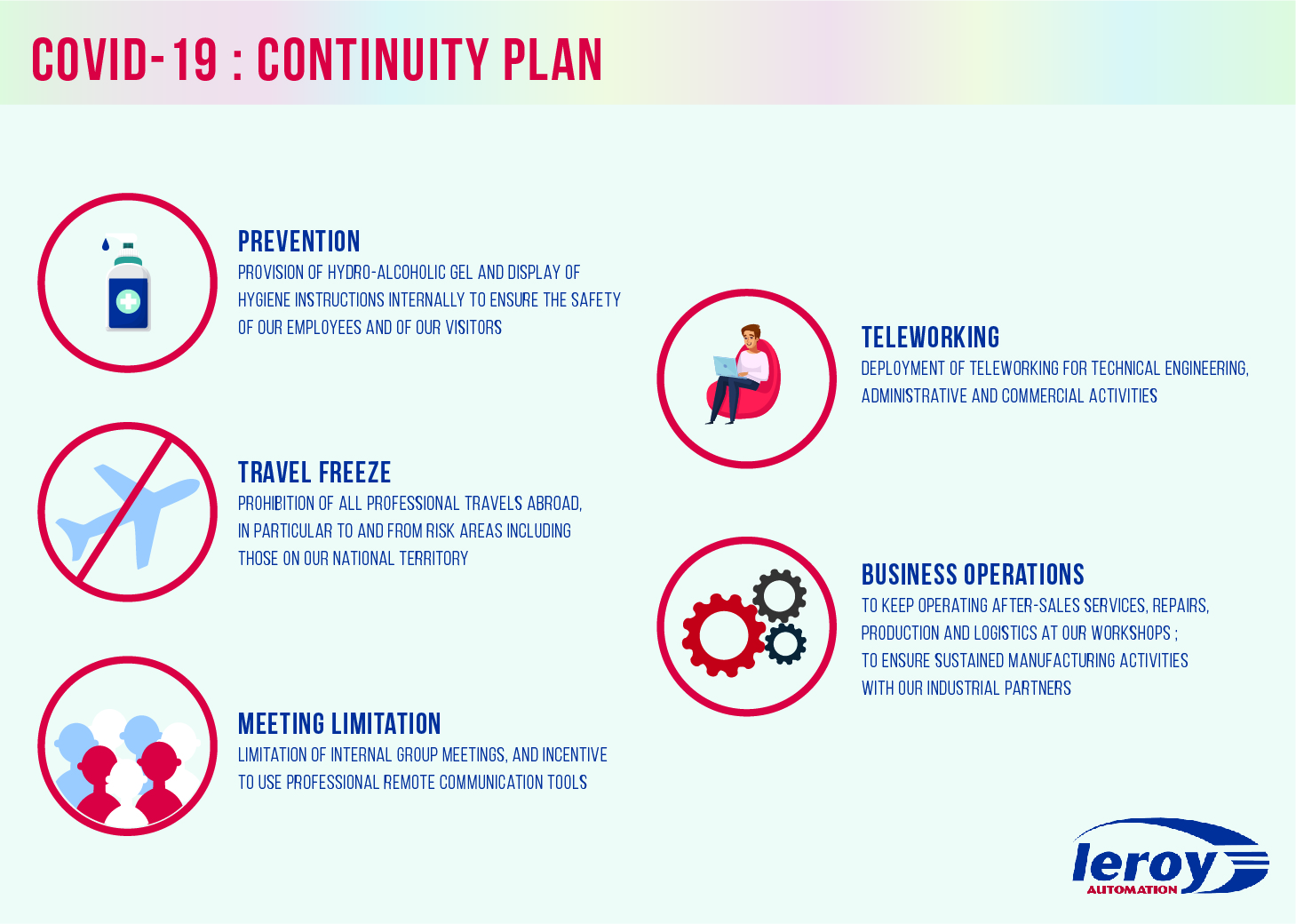 Dear Customers and Partners,
With the on-going development of Coronavirus COVID-19, and in light of the seriousness of the current health and safety situation, we would like to inform you that we have activated our business continuity plan. Our company Leroy Automation has implemented all necessary actions to keep operating its activities without any interruptions or changes while guaranteeing the best possible services.
Until today, the dedication of our employees has ensured a continuity of service that meets our commitments to safety, performance and quality.
The following concrete measures are now enforced:
• Implementation of a risk prevention plan in response to the impacts of Coronavirus;
• Prevention, provision of hydro-alcoholic gel and display of hygiene instructions ("barrier gestures") internally to ensure the safety of our employees and of our visitors;
• Prohibition of all professional travel abroad, in particular to and from risk areas including those on our national territory;
• Limitation of internal group meetings, and incentive to use professional remote communication tools;
• Deployment of teleworking for technical engineering, administrative and commercial activities;
• To keep operating after-sales services, repairs, production and logistics at our workshops;
• To ensure sustained manufacturing activities with our industrial partners.
Although the system put in place allows us to achieve good business continuity and especially to maintain the logistics to deliver of products to our customers and partners, be aware that those solutions will lessen the impact without however being fully nominal.
Our company management coordinates very regularly in order to manage this exceptional situation on a daily basis. All the measures taken are in accordance with the health and safety instructions and directives of the French government authorities as well as those of the World Health Organization (WHO).
We will share responsible communication messages to keep you updated, if necessary.
We appreciate your continued support as we work together to navigate through this global challenge, and we thank you for your understanding.
Yours faithfully,
Alain WOJTASZAK,
General Manager – Leroy Automation