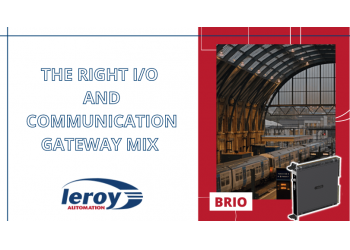 BRIO: The right I/O and communication gateway mix
Leroy Automation is well-known for its optimized remote I/O modules deployed in Train Control and Management System ("TCMS") architectures.  Nowadays, we are successfully implementing our BRIO platforms on-board signalling applications such as metro and subways' Communication-Based Train Control ("CBTC"), mainlines and transit European Train Control System ("ETCS") and North America's Positive Train Control ("PTC").
Based on proven product generations, the BRIO Signalling Gateways provide the right mix of I/O channels, as well as enhanced end-to-end security communication links for safe train operations. This includes robust hardware mechanisms and software features to protect data from vulnerabilities and external cyber threats.  
The BRIO Signalling Gateways also support TRNG management, AES-256 encryption and SHA-512 cryptographic functions.  In addition, the BRIO Signalling Gateways are built with an innovative modular design approach that facilitates system integration of new functions through a plug-and-play hardware/software architecture. 
The BRIO Signalling Gateways feature an internal DHCP server. Alternatively, the optional external Key Identifier Dongle ("KID") may be used to automatically assign IP addresses, or to address customized parameters.  Through the Ethernet communication port, main IP-based communication protocols are supported such as IEC 61375-2-3 Train Real-time Data Protocol ("TRDP"), EtherNet/IP-CIP, IPTCOM as well as MODBUS TCP.
The BRIO Signalling Gateways are designed with fully isolated digital inputs (full range: 24-110Vdc), and fixed or configurable threshold detection.  They also features analogue I/O channels to ensure the acquisition of speed signals (with an accuracy better than ±3Km/h) to display on Cab Display Units ("CDUs").