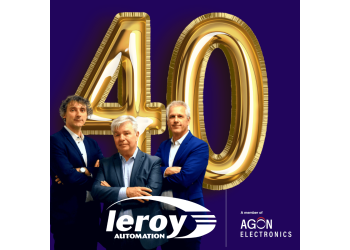 HAPPY RUBY JUBILEE TO LEROY AUTOMATION,
40 YEARS OF AMBITION AND INNOVATIONS TO
THE RAIL INDUSTRY
Since its inception in 1983, Leroy Automation has gradually, through hard work and dedication, built a strong expertise in embedded automation systems, making it a world-leading company in today's railway industry. Despite the fact that 4 decades have already passed already, much has been done, yet still, much needs to be done…
Let's time-travel 40 years back in history at the roots of "Leroy Automatique Industrielle" (LAI). The company was established in Toulouse by Mr Jean Leroy, a brilliant and passionate engineer graduated in 1967 from MINES Saint-Etienne ("Ecole Nationale Supérieure des Mines de Saint-Etienne") after having spent 12+years at Merlin-Gerin in Grenoble, France – nowadays, Schneider Electric group. 
He led his company "LAI" to success through visionary technologies and award-winning innovative ideas, navigating through the tumults of the electronic and automation markets. He grew the company for 20+years designing and manufacturing modular remote I/O modules, and programmable logic controllers for industrial applications. 
In the 2000s, the company name changed to LEROY AUTOMATION as a globally recognized brand. He appointed Mr Alain Wojtaszak, the company's current managing director, who carried out the transformation and specialization in niche automation markets. 
From his experiences in international industrial and automotive corporations, Alain took responsibility for the growth, innovation and development of Leroy Automation's strategies and business. Surrounded by a team of dedicated experts, the growing company LEROY AUTOMATION became an important player in the railway, energy, defense and industrial markets.
Today, LEROY AUTOMATION is a company on a human scale over 70 employees at its disposal, together stand as a mighty force,propelling up and forward for a more sustainable future. Production and sales of innovative, reliable, and fail-safe products is one of the core commitments of the company.