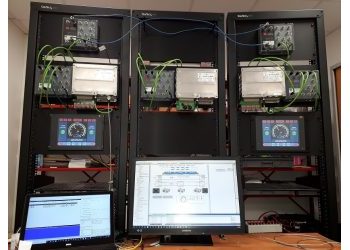 Integrated IEC 61375-2-3 TRDP Testbed for TCMS integration and validation
Train Real-time Data Protocol (TRDP) is the most innovative information exchange protocol defined in railway communication system architectures, and it is fully specified as per the IEC 61375-2-3 Communication Profile standard.
In order to help Train System Engineers, Leroy Automation has developped a complete Train Communication and Monitoring System (TCMS) testbed featuring TRDP.
The test bench features the main components of TCMS architectures : vehicle control units (VCU), remote I/O modules (RIOM), and driver display units which are all interconnected using fast Ethernet integrated train backbone nodes and multi-port Ethernet consist switches Ethernet switches.