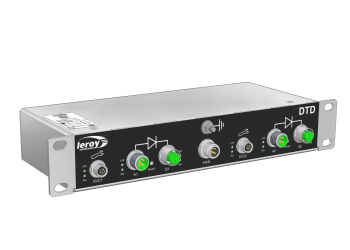 Revolutionary DATA DIODE innovation for on-board railway applications
Leroy Automation, a leader in the railway automation industry, is excited to announce its participation in the SIFER Exhibition 2023, taking place from March 27 th to March 30 th. This year, Leroy Automation will be located in Hall 2, Booth 430.
At the SIFER Exhibition, Leroy Automation will be showcasing its latest innovation, the DATA DIODE for on board railway applications. This technology is set to revolutionize the railway industry by enhancing data security and preventing cyber-attacks.
The DATA DIODE technology is a unidirectional communication device that enables the secure transfer of data between two systems with different levels of security clearance. It provides a physical barrier that blocks any unauthorized access from the less secure system to the more secure system, while allowing data to flow freely in the opposite direction.
The DATA DIODE technology has already been successfully implemented in other industries, such as the military and government agencies, and now Leroy Automation is bringing this innovation to the railway industry. With cyber-attacks becoming more frequent and sophisticated, it is crucial to have a reliable and robust security system in place, and the DATA DIODE provides just that.
In addition to showcasing the DATA DIODE technology, Leroy Automation will also be highlighting its other cutting-edge products and solutions, including its train control and monitoring system, remote I/O and condition-based maintenance solutions.
Leroy Automation has a long-standing reputation in the railway industry for providing innovative and reliable automation solutions. Its participation at the SIFER Exhibition 2023 demonstrates the company's commitment to driving the industry forward and addressing the evolving needs of its customers.
If you are attending the SIFER Exhibition 2023, be sure to visit Leroy Automation in Hall 2, Booth 430, to learn more about its products and solutions, including the revolutionary DATA DIODE technology. Don't miss this opportunity to see firsthand how Leroy Automation is leading the way in railway automation