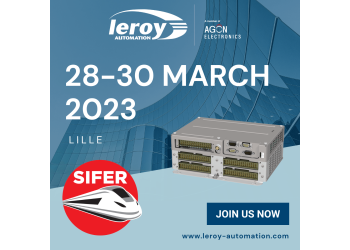 SIFER 2023, 13th International Railway Meeting in Lille – Grand Palais.
As part of the TOTEM Cluster railway pack, Leroy Automation will exhibit at SIFER 2023 from March 28 to 30, in the heart of the central pavilion of the "Region Occitanie" with the support of the economic development agency AD'OCC.
We invite you to join us and meet us there, to discover our latest Cyber-security solutions applied to secure on-board signaling applications, to real-time train communication networks centered on the TRDP protocol (Train Real-time Data Protocol) defined such as the new normative reference IEC 61375-2-3, and TCMS solutions with a unique modular architecture approach.
Are you looking for "RTU" ("Remote Terminal Unit") automation solutions for the energy management of electrical substations? Rail automation for track signalling? On-board train computer solutions ("VCU"), remote I/O modules (RIOM) or even fieldbus communication and IP-based Cyber gateways? Do you plan to supply reliable off-the-shelf products to secure your SIL0 & SIL2 safety developments, or even undertake development with us? Take advantage of the presence of our Leroy Automation engineering team to start conversations about your next technical projects at SIFER 2023.