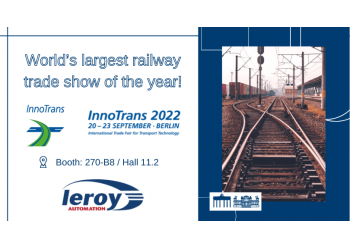 INNOTRANS 2022: World's largest railway trade show of the year!
InnoTrans is the world's largest trade fair in the field of rail transportation technology. After being postponed in 2020 due to the pandemic, it will finally take place on September 20-23, 2022.  All railway experts and engineers are eager to meet and discuss railway technology at this occasion – and so do we!
We are pleased to confirm that Leroy Automation will run live demonstration about our Train Control and Monitoring System ("TCMS") solutions, as well as showcasing our new on-board train signalling PROFIBUS gateway for European Train Control System ("ETCS"). 
The Serial Link Gateway (SLG) product family is a comprehensive range of field-bus communication converters for on-board train control and signalling applications.  Fully compliant with the EN 50155 standard, it has been designed and is manufactured by Leroy Automation. 
The SLG_001/SLG_002 and SLG_003 convert an RS-422 (or RS-485) communication port into a physical 20mA Current-Loop interface without interfering with the transmitted data format.  Our brand new SLG_004 allows to interconnect PROFIBUS-based UNISIG Specific Transmission Modules ("STM") and high-performance European Vital Computers ("EVCs") through RS485 or RS422 serial interface.
Our exhibition booth is located Hall 11.2 – Booth no. 270-B, and hosted on the BUSINESS FRANCE Pavilion.
We are looking forward to meeting you in Berlin, and to explain all the key selling points of our railway products.