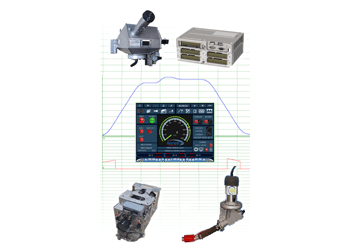 Attempting to improve traditional train sanding systems, LEROY AUTOMATION and the famous original equipment manufacturer (OEM) FBO are proud to announce industrial cooperation to release an automatic sanding system solution for rolling stock vehicles.
This innovative and fail-safe subsystem is fully compliant with EN 50155/IEC 60571 standards. It brings rolling stock manufacturers and integrators a complete packaged solution allying the integration of mechanical and pneumatic sanding system (compressor, sand reservoir and ejector) with advanced TCMS subsystem using standardized communication protocols.
This system equipment controls and adjusts the sanding process with a regulation process according to the real-time velocity of the rolling stock vehicles. Fully configurable, customizable and programmable by software using IEC 61131-3 STRATON PLCopen workbench, system integrators can optimize their solution for all types of fleet including light rail vehicles (LRV), electrical multiple units (EMU), locomotives and even very high-speed trains.