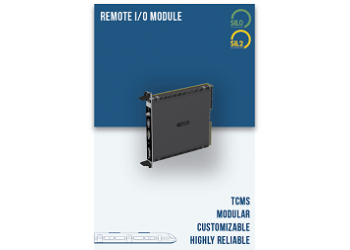 The BRIO remote I/O product line brings innovation and endless possibilities without compromising hardware modularity, software flexibility and system adaptability Vs. robustness for railway applications.
Fully compatible with IEC 61131-3 STRATON Soft PLC package solution, end-users can develop and implement their own real-time process control logic functions by computing local I/O signals without consuming processing power of the main vehicle control unit, nor altering data bandwidth of the train communication network interfaces (Ethernet, MVB, CAN/CANopen, RS-485 HDLC/HPTS).
Tailor-made BRIO platforms can be customized by interfacing different types of hardware I/O daughter cards, or by designing a specific one to match particular needs at 100%.