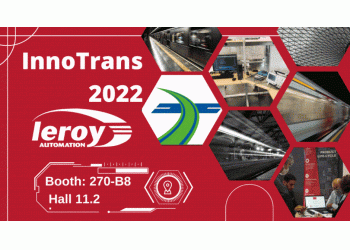 InnoTrans 2022 – Have you had a chance to pop-down Leroy Automation's booth?
InnoTrans, the world leading trade fair for transport technology, has made a phenomenal come-back 4 years after its last edition.  This show, held every two years at Messe Berlin ExpoCenter, is dedicated to Railway Technology, Railway Infrastructure, Public Transport, Interiors, and Tunnel Construction.
This year's InnoTrans, held from September 20th to 23rd for its much anticipated 13th edition, welcomed 2,834 exhibitors and over 140k visitors.  Among them, 53.7% were coming from outside of Germany and 56% were first timers.  The high rates confirm the ever-growing interest for the event worldwide, and its position as the world leading trade fair for transport technology.
Trade visitors are primarily interested in rail transport technology, rail transport infrastructure and the 3.5-kilometer track and outdoor exhibition area. This is followed by the new Mobility+ exhibition area, a platform for services and products relating to mobility complementary to public transport.
At Leroy Automation, we zoomed-in on our core competences about on-board train control and monitoring system (TCMS) solutions and on-board signalling applications. Our visitors appreciated live demos displaying TCMS system integration engineering, as well as SIL2 DDUs interface to our vehicle control units (VCU) for ETCS use-case.
Let's connect and meet again to keep discussing your technical projects, and to see how we can engage win-win cooperation altogether.