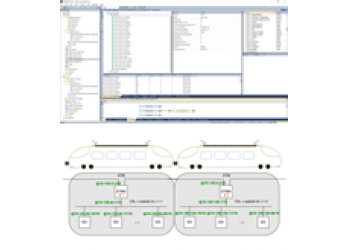 Integrated IEC 61375-2-3 TRDP support in the STRATON IDE
The IEC 61131-3 STRATON integrated development environment (IDE) by COPADATA now supports the latest version of the IEC 61375-2-3 – Train Real-time Data Protocol.
Developed in partnership with COPADATA, the STRATON IDE integrates a new communication protocol which aims to target all the Leroy Automation's programmable logic controllers (PLCs) to implement innovative TCN-based train communication network infrastructures.
Support for local communication interfaces is also available : MVB, CAN bus 2.0 A/B (CANopen, J1939), RS-485/RS-422 interfaces and its 10/100Mbps Ethernet communication port using M12 connector for on-board railway applications.
Other communication protocols such as LON Works, 20mA Current Loop, World FIP, RS-485 HTPS are also available from our selection of legacy products and network/bus interface converters.